Get PersonalFN's
Premium Research Services
Worth Rs 15,000
For Just Rs 5,000
(But this special price offer may not last long)

Our solid and unbiased research has resulted in the consistent performance of All 'FundSelect Plus' portfolios over the past 5 years

And you can get instant access to these market beating mutual fund portfolios + identify which are the good funds suitable for you, and the funds that you should avoid at any cost
Dear Valued Reader,

Our Premium Research Service 'FundSelect Plus' will complete a successful journey of 5 years on July 02, 2012 and all this has been possible only because of our respected subscribers.

So to make this event more meaningful for you, we are giving you a chance to try our premium research services at just 33% of its original price.

4 Ready Equity Mutual Fund Portfolios + 3 Ready Debt Mutual Fund Portfolios + 52 Equity Mutual Fund Recommendation Report and much more...at a never before price of just Rs 5,000/-,

And there's more...

By acting right away, you will also get a copy of our latest special report "3 Evergreen Mutual Fund Schemes for Your Portfolio" absolutely Free of cost!

You know, we have never done this before and may never do this again. So you should definitely make the most of this '5th Anniversary of FundSelect Plus' offer.

And why are we offering you our research at a price which is actually less than our lowest price ever...
We are glad that our premium service 'FundSelect Plus' is about to achieve a milestone '5 years of consistent performance'

We really want you to choose the right funds that can add power to your overall mutual funds portfolio.
Over the years we have experienced that mutual funds are a handy investment tool to share your risk and build wealth over the long term and you may keep yourself tension free if the fund manager is doing a fantastic job for you by managing your money.

But from the universe of over 1,740 mutual funds and 5,010 scheme options, identifying the right mutual funds is not an easy task.

You may never know which mutual fund scheme will be a fit for you and whether the ones that you are holding are worth to be the part of your investment portfolio.

To build wealth over the long term the key lies in identifying the right mutual fund and build for yourself a solid portfolio of mutual funds.

We know of a select group of smart investors who have invested in some of India's best mutual funds, are still sitting on great profits and are also making money from their fresh investments.

If you give us the next 5 minutes of your time, we'll tell you exactly how these investors are growing their wealth, and how you can also earn great returns - whether markets are good or bad - from investing in India's best mutual funds.

But before that, let us tell you why...
As You Sow, So Shall You Reap
(Yes, that's true in investing as well!)
Most of us understand the concept of sowing and reaping because we can grasp the simplicity of the logic.

If we were to plant potatoes in our backyard we wouldn't expect onions to come up, right?

But even though we can grasp this simple logic, we don't always act as if we understand its immense power.

However, the truth remains that we always reap what we sow and that is especially true with our investments.

Think about this. Your success as a mutual fund investor is not limited by how stock markets are doing in the short term, or what others believe you are capable of achieving.

Instead, your success depends on the quality of mutual funds you identify and add to your portfolio, and holding them whatever the markets do.

And believe me, this means a lot right now...more than at any other time in our lifetime.

The investing environment continues to be tough, and with the current world economic conditions, they may be getting even tougher.

But that's exactly why today, more than ever, you need a little something extra.

You need an edge...an advantage unlike anything you've ever had before.

And for that, we're happy to bring to you...
'FundSelect'
Your 'Personal' Equity Mutual Fund Advisor
+
'FundSelect Plus' . . .
The Simplest Way to Access Portfolios of
India's Market-Beating Mutual Funds
FundSelect is an over 8 year old service from PersonalFN, a leading Mutual Fund research and Financial planning advisory firm.

The aim of this service is to identify the 'right' mutual funds that meet your long term financial goals. And that's not all, we also recommend the funds you must avoid at all cost (and there are many of these around right now).

In all, we make 52 recommendations in a year through FundSelect (one per week), inclusive of both kind of funds - the ones you must invest in, and the ones you must avoid. So that you know which are the good funds out there to invest in and poor performing funds you should avoid at any cost.

While our second premium research service FundSelect Plus takes away your pain of finding the best mutual funds suitable for you...and instead recommends market-beating mutual fund portfolios...ones that can generate consistent returns for you in the long run.

In its simplest avatar, FundSelect Plus is a mutual fund portfolio recommendation service. And it comes from PersonalFN, one of India's most trusted personal financial advisor.

The core objective of FundSelect Plus is to provide its subscribers 6 model portfolios that allow them to take an informed decision on what should form a part of their mutual fund portfolio.

"Is FundSelect Plus just another portfolio recommendation service?" you might wonder.

Not at all! FundSelect Plus carries the experience and expertise of a research team which has been researching and advising on mutual funds since 1999.

It offers you 6 model portfolios of equity as well as debt mutual funds + access to 1 bonus long term portfolio of equity mutual funds that can take care of your absolute long term financial goals. It delivers unbiased and independent opinion on mutual funds and follows a rigorous research process based on various qualitative and quantitative parameters.

Now you might ask - "Why should I trust you?
Aren't you same as other financial advisors who've advised me the wrong kind of funds that have caused me big losses in the stock market crash?"

We can understand your fear.

And that's why let us tell you that we at PersonalFN have never recommended 'any' mutual fund for commissions, like most financial advisors would do (and thus recommend you funds that earn them the maximum commissions).

Instead, we have always recommended the 'right' mutual funds that fit our subscribers' long term investment needs.

But you don't have to take our word for that!

Read what some of our long term believers have to say about the quality and trustworthiness of our services.
"I was reviewing my portfolio today. I am happy to note that all my investments have outperformed market both in down as well as up market condition. The recommendations of PersonalFN are unbiased and generally have a long term views suitable for common investor like me.

"When I look back, the timely advise and assurances of PFN, quite contrary to experts on TV during the last years downturn not only saved me from huge loss, it helped to maximise my return in the cycle. I once again thank you all in PersonalFN for educating common investors and unbiased advice."

- Anup Kumar Guru, Mumbai
"With their unbiased research and personalized financial planning, PersonalFN helped me overcome the fear of investing into mutual funds. I think I have become an informed investor, thanks to the easy-to-understand literature and research articles that PersonalFN publishes and their friendly staff who never pressurize a customer into anything."

- Srinivasa Rao, Bengaluru
This last testimonial always cheers us up!

Nothing makes us happier than seeing our subscribers satisfied with the way we approach them (and not pressurize them into anything like most advisors would do) with the right and timely recommendation on mutual funds.
But Then, You May Ask . . .
"What's Your Track Record?"
We're just coming to that.

Our 2 most popular products - FundSelect & FundSelect Plus - won't disappoint you on that front.

You see, the faith our subscribers have shown in our abilities to recommend the right kind of funds has not been built overnight.

Instead, it has been due to our painstaking efforts over the last many years.

This is notwithstanding the market-beating returns that our portfolios, chosen through FundSelect Plus, have earned our subscribers over these years.

Like this...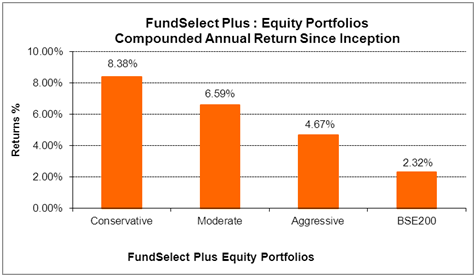 (Source: www.personalfn.com, PersonalFN Research;
Since Inception Performance as on May 28, 2012)
As you can see from the chart above, the FundSelect Plus portfolio of 'conservative' equity mutual funds has delivered a compounded average annual return of 8.38% since July 2007.

Now that's over twice the return generated by the benchmark BSE-200 index. This outperformance has come at a time when the overall markets conditions have been very tough.

Our other 2 portfolios of 'moderate' and 'aggressive' mutual funds have also outperformed the markets by handsome margins of over - 4.2% and 2.3% per annum respectively.

You see, these returns generated by our three equity mutual fund portfolios recommended through FundSelect Plus are not any fluke.

As we said, these are the results of our mutual fund research team's meticulous selection of well-run funds that it believes can provide handsome returns to investors over the next few years.

Well, we're not done as yet.

The equity mutual fund portfolios that we just talked about were just one part of FundSelect Plus - the GROWTH part.

Let us now tell you about the second and equally important part of this service - the SAFETY part.
Get 'Safe' with India's Leading Debt Mutual Funds
The role of FundSelect Plus does not stop at recommending you the three equity mutual fund portfolios.

The service also offers you three portfolios of debt mutual funds - where the investment idea is not growth, but safety of capital.

You understand that one needs to have a mix of equity and debt in one's investment portfolio. And our debt fund portfolios just help you get that mix right.

Identifying the right kind of debt mutual funds carries equivalent amount of task and time as equity funds, or probably more.

This is given that if you were to go on your own in selecting debt funds, you need to be very sure about the direction of interest rates in the economy.

After all, you won't like to lock in your money in a low interest debt fund when the general interest rates in the economy are rising.

Same is the case when interest rates are falling.

So, you need to be very sure of the kind of debt funds you have in your portfolio.

And FundSelect Plus helps you with just that...without you taking the load of tracking the interest rate cycles.

What is more, our debt portfolios have also outperformed the benchmark index, like our equity fund portfolios have done.

See here...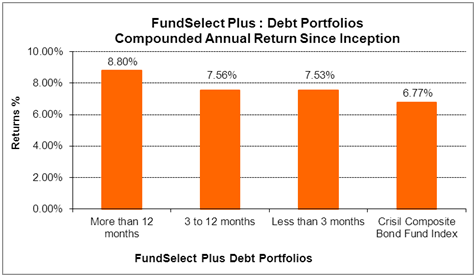 (Source: www.personalfn.com, PersonalFN Research;
Since Inception Performance as on May 28, 2012)
Let us again tell you that the outperformance by our funds has not been a matter of chance.

It's again a result of deep studies done by our research team at PersonalFN that it has been able to identify the right debt funds that can beat the benchmarks.

Now all this expertise will be passed on to you via FundSelect and FundSelect Plus.
So How FundSelect Plus Will Help You...
FundSelect Plus will help you identify portfolios of the 'right' kind of equity and debt mutual funds that pass the rigorous selection process of our research team.

These equity portfolios will be based on your risk profile - ranging from conservative, moderate, to aggressive.

And the debt portfolios will track the different time periods for which debt instruments are available in the market.

Overall, we expect the portfolios recommended through FundSelect Plus to earn you strong market-beating returns over the next 4 to 5 years.

All at minimal risk and zero headache for you!

Not only this, our other premium service FundSelect will update you with analysis on good and bad mutual fund schemes in India
Here's, How FundSelect Can Help You?
FundSelect will help you identify the 'right' kind of mutual funds that pass the rigorous selection process of our research team.

And that's not all. The FundSelect reports that you will receive from us, will suggest...
Whether the fund is for you - Even if we recommend a fund for investment, it might not be suitable for you given your profile - age, income level, etc. FundSelect will tell you exactly if the fund is suited for your profile.

How the fund has performed against the index and its peers in the past- Though past performance is not indicative of the future, it gives a lot of sense of how the fund has been managed over longer timeframes. FundSelect will tell you this.

What's the fund's profile - FundSelect will also let you know the basic profile of the fund - its investment objective and time horizon.

A note on the fund manager - Now, this is the most ignored part of a mutual fund advice. But FundSelect takes proper care of this. It tells you exactly of the background of the fund manager and whether he/she has the right qualification and experience to manage your money.

What does the portfolio consist of - FundSelect will also help you with the key investments (like stocks and bonds) that a fund holds. This gives a good perspective of how the fund manager is thinking!

Whether the actual performance meets the fund's original objective - It's natural for most investors to sway from their core investing philosophy when times are good. The same holds true for a mutual fund and its manager. FundSelect will identify for you whether the fund is working in line with its objective or not.

What's our outlook for the fund -FundSelect will suggest a long term outlook for the fund, which will help you make up your mind whether or not to invest in the fund
And then, you receive this entire wealth of information in easy to print reports. You can always save them for future references...and for cross-checking with our claims.

So by accessing both of our Premium Research Services, you not only get regular recommendations to identify the good and bad mutual funds, but you also get access to ready to use portfolios of mutual funds that have a proven track record.

Our regular performance reviews and updates will help you know and track the performance of your invested funds and help you make timely investment decisions to meet your financial goals!
Let Us Make You A Deal...
You see, FundSelect Plus is priced at Rs 10,000 for a year's subscription.

And FundSelect is priced at Rs. 5,000 for a year's subscription.

So if you subscribe to this package of both services, the total price would be Rs. 15,000 for 1 year.

But for only few days, i.e. till 11:59 p.m. on 02nd July 2012, you can subscribe to both of our premium services for Rs. 5,000 only.

That's a discount of over 66%!

If that's not all, you can sign up for the FundSelect and FundSelect Plus package at this highly discounted price and test-drive the service for a full 30 days.

If you don't like what you see (unfortunately for us!), just get in touch with us before the 31st day, and we'll refund the entire fee you paid. That's a promise!

But you must act quickly.

This offer will close at 11.59 PM, 02nd July 2012.

After that, you may no longer get access to both of our premium service at such a discounted price!

...and the subscription price of FundSelect Plus will go back to the usual Rs 10,000 for a year's subscription and FundSelect will go back to Rs. 5,000 for a year's subscription...

So you really should act right now!

Just a minute! Did we tell you that apart from the highly discounted price, there are some other invaluable gifts that you'll be entitled to with your subscription to the FundSelect and FundSelect Plus?

Well, here is all you will get when you subscribe to FundSelect and FundSelect Plus through this special offer...
Premium Report: 3 Evergreen Mutual Fund Schemes for Your Portfolio

Our latest premium report will reveal to you...



1 Large Cap Fund that has built a strong and consistent track record over the years,

1 Mid Cap Fund that has in a short span of time has showed its worth to become a key player in one's portfolio,

1 Multi cap Fund that emphasises on adding value, and has strongly stood by its objective of Creating Wealth for its investors

...And what else, these 3 funds are the ones that you can buy now!

We see these funds adding tremendous returns and value to your portfolio over the next few years...

And you can get complete information on these funds in this Premium Report that you will get Free with your Subscription.

FundWatch

As an add-on to the mutual fund recommendations that you receive through FundSelect, you also get researched views on the funds that are on our research team's watch list.

New Fund Offer Analyses

You also receive our views on whether you should be investing or not in a new mutual fund offer.

Investment Ideas Notes (Monthly)

In all the noise that exists, our monthly investment ideas provide a considered and non-emotional view of the markets and what you as an investor should be doing. You get this free with your FundSelect and FundSelect Plus subscription.

Asset Allocation Note (Quarterly)

The Asset Allocation Note provides an overall update on the markets with guidance on how should you spread your money across various asset classes like equity, gold, real estate, and cash.
You get all these reports and services for 'Free' when you subscribe to FundSelect Plus and FundSelect through this offer.

And over that, the risk for you is ZERO!

Why? Because you can try FundSelect Plus and FundSelect for a full 30 days.

If it turns out that you don't like it, just let us know before the 31st day and we'll refund the entire fee you paid. No questions asked!

Sounds good?
Why It Might Be Unwise to Wait
Until Midnight on 02nd July 2012...
We're going to close the FundSelect and FundSelect Plus premium Membership at the stroke of midnight on 02nd July 2012.

But we're firmly convinced that we'll be forced to cut off memberships before then.

This is because we are accepting only the first 500 subscriptions through this special offer.

And we're personally convinced that we'll hit this limit very quickly.

(That's why we asked that you please not forward this email to anyone.)

We've kept the door open for you, not just to get in but also to get out in case you don't like what you see here.

So rest assured, as you're fully protected by PersonalFN's 30-Day Refund Policy!

Subscribe to FundSelect and FundSelect Plus. If by any chance, you're not totally satisfied that this is the right package for you, just let us know before the 31st day from the day of your subscription, and we will completely refund your money, no questions asked.

So what are you waiting for?

Accept our invitation by becoming a valued subscriber of our premium research services FundSelect Plus and FundSelect. You may not see such an amazing offer to get your hands to this invaluable package again!
Sign Up for FundSelect Plus and FundSelect Today!
Original Price:
1 - YEAR
FundSelect Plus + FundSelect
10,000 + 5,000
Rs 15,000
Offer Price:
1 - YEAR
FundSelect Plus + FundSelect
Rs 5,000/-
With respect,
Team PersonalFN
PersonalFN.com

P.S.: Because this is a special offer on account of the 5th Anniversary of FundSelect Plus, it is extremely unlikely that we will offer this special price again.

P.P.S.: A one-time fee of Rs 5,000 is not a big price for all the great mutual fund recommendations you will receive, and there's no way we could afford to keep this offer open for very long. That's why you need to respond by midnight of 02nd July 2012...or sooner.

P.P.P.S.: Signup for FundSelect Plus + FundSelect today, and you will have 30 full days to decide whether or not you have made a right decision to pay for this invaluable service. If not, let us know any time during that period, and you'll receive a full refund - no questions asked. That's a promise!

P.P.P.P.S.: If you have any queries, please do not hesitate to contact us at +91-22-61361200. If you find these numbers busy, which might be the case due to a lot of people calling in for enquiries, kindly try calling up again after some time.


---
Price Inclusive of Service Tax
Please read the Terms of Use.
Quantum Information Services Pvt. Ltd.
101, Raheja Chambers,
Free Press Journal Marg,
213, Nariman Point,
Mumbai-400021.
Maharashtra. India.
Tel.: +91-22-6136 1200