This does not constitute investment advice. Returns mentioned herein are in no way a guarantee or promise of future returns. Mutual Fund investments are subject to market risks. Please read all scheme-related documents carefully.
" The Biggest Money Making Opportunity Of 2022 "
5 Mutual Funds That
Have The Alpha Factor
With These 5 Mutual Funds That Have The Alpha Factor
Potential To Significantly Boost Your Portfolio Returns With
These High Potential, High-Return Generating Mutual Funds
Dear Investor,
We did it!
Something that honestly did not look possible around 2 years ago.
Yes, we are talking about the deadly pandemic that bought the entire planet to a halt.
But we beat it...
Vaccination numbers go up with every passing day.
The world now looks forward to a new normal.
And as the world moved on, it's time for investors to also look forward for the years to come.
It now makes more sense for investors to invest in opportunities that have really high potential.
And probably, we have just that for you today!
We believe that there will be a lot of ACTION in the next few years...
... For a handful of aggressive mutual funds that are well-placed to exploit this golden opportunity ahead.
A golden opportunity with potential so high, we aptly call them the 'Alpha Funds'.
They are the chosen FEW with huge potential to bring higher (we repeat, potentially MUCH HIGHER) returns than the hundreds of funds that we have studied so far.
How do double or even triple digit returns sound to you?
Not uncommon with Alpha funds.
Frankly, we are talking about one of the biggest money-making opportunities of 2022.
And you are one of the privileged few to receive an early look at this.
So, if you are interested in one of the biggest money-making opportunities for 2022 and the years to come, we urge you to read on further.
Trust us, with the world fast moving towards a better time, there is no better timing to invest in something as high potential as these Alpha Funds.
But just a heads up before you come onboard...
Not every fund is an Alpha Generator!
Let's clarify this first.
There are essentially two types of funds.
Winners and Losers.
Obviously, you would want to invest in winners. Understandable.
But what many don't get is...
There is yet another sub-category of mutual funds that fall within the 'Winners' category.
The Alpha ones.
We call them the 'winners amongst winners'.
These are the funds that make the rest of the winners shy of their performance.
That's right"
When the winners might rake in double-digit returns, the Alpha funds are the ones that have the potential to rake in TRIPLE digit returns in the long term!
They are super-special in their own rights, whether debt or equity, whichever type you consider. And as such, we daresay that they are among the BIGGEST moneymakers when it comes to mutual fund investing.
Let us put it this way to you.
If you are looking to become a millionaire with only one fund, the odds might be in your favour if you put your money in a well-selected Alpha fund.
Truth spoken. Loud and clear.
And as we already said, the time is now.
The iron is hot.
The whole economy is now buzzing.
The market has already hit the starting bell.
Would you let go of this opportunity?
But, wait! There's one itsy-bitsy problem.
Finding the right Alpha funds to invest in.
Let us tell you that can be a real problem.
Sorting and sifting the winners to find that ONE 'alpha' capable of beating others in terms of investment returns...
...can be a time-consuming process.
Don't think so?
Well, let us tell you.
Even We Struggled, But Then...
If you don't already know, PersonalFN is one of the leading mutual fund research houses in India today.
We have over 1.5 lakh readers all over India and abroad.
We have helped create significant wealth for our premium subscribers over the last 20 years.
There's no denying the fact that our unique S.M.A.R.T. Score Matrix can be considered among the very best research methodologies in the market at present.
But even then, our research team was finding it tricky to pick the Alpha funds from among the recommended funds.
You see, we have a success rate of a whopping 70 percent with our mutual fund recommendations.
That means seven out of 10 funds we recommend to our subscribers end up making significant money for them.
But, it was not the point this time.
We were looking for a few handful funds among those winning recommendations that generated above-average returns in the past and are well-placed to bring double or even TRIPLE digit returns in the next 5-10 years.
And that's when we came up with our latest S.M.A.R.T. Alpha Score model. We won't get into the technical jargon but let's just say, this exclusive research model helps us choose the Alpha funds:

And till date, we have been able to find 5 of such rare funds. (Let's call them 'rare', shall we?)
It was rather tough to pick them out...like finding needles in a haystack.
But, it was worth the trouble.
Because we know how valuable they are for you, as an investor.
And the good news is, we are letting you get access to these funds today.
Introducing our latest
The Alpha Funds Report 2022
5 High Alpha Funds To Boost Your Portfolio Returns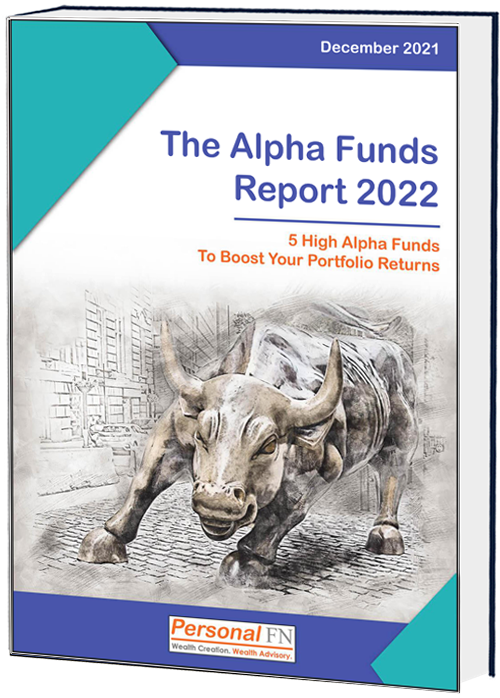 In this exclusive report, we are revealing our top 5 Alpha picks for 2022...that might simply speaking, have the potential to make you loads of money in the next few years..
These FIVE funds are the ultimate Alpha funds chosen specially for the PersonalFN followers.
These funds are for the aggressive investors who are up for 'high risk-high reward' investment opportunities and are up for a ride on the new wave of market opportunities.
If our calculations are right, these funds would probably bring in a high double to mid triple digit portfolio returns over the next 5-7 years.
Please note: it might vary though.
But we are almost certain of what we are saying.
Here is a peek into the five funds in this report:
High Alpha Fund #1:
This high alpha generating large cap fund belongs to a process driven fund house. It has come a long way purely backed by quality management which has resulted in stellar performance across time periods. The fund stands strong among the top performers in its category and has a track record of generating superior returns for its investors. The prudent investment strategies followed by the fund has earned it a tag of being a consistent performer that has rewarded long-term investors well across market cycles.
High Alpha Fund #2:
A large-cap based multi-cap fund that has shown exceptional performance and has established itself as one of the top contenders in its category. It has proven its ability to curb the downside risk and reward investors even in extreme conditions. The fund has not only kept risk under control but has also managed to deliver benchmark-beating returns over longer time frames. It has rewarded investors with superior risk-adjusted returns and is an ideal fund to provide stability with growth to your portfolio.
High Alpha Fund #3:
A multi-cap fund that gives high preference to the value style of investing has rewarded investors substantially in the last few years. The fund seeks undervalued stocks across market caps without comprising quality. Its strategy of diversification across geographies and sectoral allocation along with stable fund management makes the fund a dependable proposition for a core holding in one's long-term portfolio. The fund has delivered superior risk adjusted returns and follows effective portfolio strategies that should benefit investors having an investment horizon spanning five years or more.
High Alpha Fund #4:
Originally a mid and small cap focused fund, it has now been categorised under large and midcap funds. Its performance, especially over the past five years, has been quite impressive. This fund has been successful in outperforming broader markets and most of its prominent peers by a distinct margin. The prudent risk management strategies followed at the fund house has worked very well for the fund. While its midcap focus helped generate substantial returns during the last mid cap rally, the fund managed to limit the downside in the midcap crash that followed, thus turning out to be a reliable bet for aggressive investors.
High Alpha Fund #5:
This actively managed fund in the midcap space holds a superior performance track record and has been consistently dominating the mid-cap space over the last few years. The fund completely stunned investors with its superior performance in 2017 and 2018 and stood strong among the top performers in the midcap funds category. It is suitable for aggressive investors having a high risk appetite and looking for a well-managed midcap fund with the potential to benefit significantly from its quality midcap stock picks.
These FIVE High Alpha funds are probably the best investments you will make to boost your portfolio returns over the next 5-7 years.
If your portfolio returns are rather modest...
If you want to fulfil a lofty financial need soon...
If you are merely looking for a golden opportunity...
You see, as an investor, you should focus on well managed high alpha generating funds.
And our research team has already identified 5 such high alpha generating funds by using our proprietary SMART Alpha Score Model.
These process-driven funds have the ability to beat the markets under any conditions and create significant alpha for investors.
Placed under 'The Alpha Booster Strategy', these high potential funds could together benefit you with superior returns in the long run.
See it for yourself...
Graph: Performance Since Inception - The Alpha Booster Strategy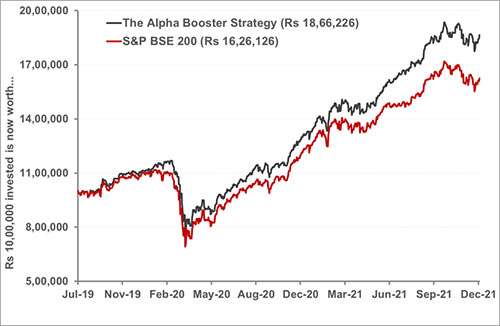 Performance as on 31st December 2021; SI Date: 31st July 2019
(Source: ACE MF, PersonalFN Research)
Past performance is no guarantee of future results
Since the time we launched The Alpha Booster Strategy on 31st July 2019, the recommended alpha funds have together managed to generate a significant lead over the benchmark S&P BSE 200 index.
Rs 10 Lakh invested in the Alpha Booster Strategy at its inception has now increased to Rs 18.66 Lakh. A simultaneous investment in the benchmark S&P BSE 200 would have been valued at Rs 16.26 Lakh
The recommended strategy has already generated an absolute alpha of around 9% since inception.
And if you are thinking about consistency in Alpha generation, then have a look at the annual outperformance of the Alpha Booster Strategy vis-a-vis the market index.
Graph: Y-o-Y Performance - The Alpha Booster Strategy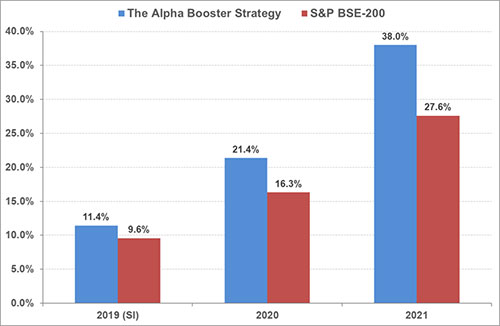 SI Date: 31st July 2019, YTD: 31st December 2021
(Source: ACE MF, PersonalFN Research)
Past performance is no guarantee of future results
The strategy has outperformed not only in rising markets of CY 2019, but it has done well to significantly reduce downside in the falling markets in CY 2020 and participate in the ensuing recovery.
Overall, the strategy has outscored the benchmark by a significant margin.
This might be it.
This is YOUR chance to make it big in the capital market. Don't let it go by.
And if you are still not convinced, we will make this decision simpler for you...
We Will Throw In A Discount Of Over 70%!
Yes, you read that right!
Ideally, we would price this high potential service at our usual price of Rs 10,000.
Which we believe is justifiable given the potential it holds.
Potential lakhs of rupees in returns for a nominal 10,000 is practically nothing, right?
But we want you to have this so that you can make the most of it.
Because you signed up with us for such opportunities and we want to make sure your loyalty and patronage is rewarded.
So, you can get instant access to the Alpha Funds at over 70% off, only for the next few days.
This means if you act right now, you would pay Rs 10,000 Rs 2,950 only for 1 year of access.
Remember, this is a time-limited offer.
And this expires sooner than you would expect.
Don't miss this opportunity. Act now.
As we told you before, this is not really a sales letter.
This is rather an opportunity that you cannot afford to miss.
If you are an investor who can spare a few chump changes for a massive investment run for the upcoming few years, then this is the one for you.
Imagine growing your portfolio multiple times...
Imagine beating the market by a significant margin...
Imagine ending up with even BIGGER investment capital than you could think of by the next 5-7 years...
The possibilities are endless.
Only requirement?
You need to act now.
To your wealth,
Team PersonalFN
P. S. Alpha funds are rare, our dear friend. It's like picking needles out of a haystack. And we have done THAT for you. Five of such funds that are 'winners amongst winners'. Won't you want to know which ones they are?
P. P. S. A huge 70 percent discount, but the offer expires in the next few days. Post that, the service may be sold at Rs 10,000. If you wish to subscribe under the discounted offer, you need to subscribe now.
---
*Price inclusive of applicable Goods and Services tax
** The performance data quoted above represents past performance and does not guarantee future results.
© Quantum Information Services Pvt. Ltd. All rights reserved.
Any act of copying, reproducing or distributing this newsletter whether wholly or in part, for any purpose without the permission of PersonalFN is strictly prohibited and shall be deemed to be copyright infringement.
Disclaimer: Quantum Information Services Pvt. Limited (PersonalFN) is an independent Mutual Fund research house and SEBI Registered Investment Adviser (Registration No. INA000000680). All content and information is provided on an 'As Is' basis by PersonalFN. Information herein is believed to be reliable but PersonalFN does not warrant its completeness or accuracy and expressly disclaims all warranties and conditions of any kind, whether express or implied. The Services rendered by PersonalFN are on a best effort basis. PersonalFN does not assure or guarantee the User any minimum or fixed returns. The Services are designed and provided based on the information and documentation furnished on this website/to the Personalfn by the User. The recommendations/advice made by PersonalFN are subject to several risks & other external factors not in the control of PersonalFN such as financial markets, macro and microeconomic factors, and other factors that can cause an adjustment in the User's own financial situation and the progress of the User's plan. The results may be based on certain assumptions. PersonalFN and its employees, personnel, directors will not be responsible for any direct / indirect loss or liability incurred by the user as a consequence of him or any other person on his behalf taking any investment decisions based on the contents and information provided herein. Use of this information is at the User's own risk. This is not directed for access or use by anyone in a country, especially USA, Canada or the European countries, where such use or access is unlawful or which may subject PersonalFN or its affiliates to any registration or licensing requirement. The User must make his own investment decisions based on his specific investment objective and financial position and using such independent advisors as s/he believes necessary. Past performance is no guarantee of any future results. Mutual Fund investments are subject to market risks, read all scheme related documents carefully. Quantum Information Services Private Limited (PersonalFN) may hold shares in the company/ies discussed herein. As a condition to accessing PersonalFN's content and website, User agrees to our Terms and Conditions of Use and Privacy Policy, available here.
Quantum Information Services Private Limited Regd. Office: 103, Regent Chambers, 1st Floor, Nariman Point, Mumbai - 400 021
Corp. Office: 103, Regent Chambers, Nariman Point, Mumbai 400 021.
Email: info@personalfn.com Website: www.personalfn.com Tel.: 022 61361200 Fax.: 022 61361222 Mob.:8422907179 Mob.:8422907179 Mob.:8422907179 CIN: U65990MH1989PTC054667
SEBI-registered Investment Adviser. Registration No. INA000000680, SEBI (Investment Advisers) Regulation, 2013