There Is A Lot We All Need to Learn & Unlearn Post This Deadly Pandemic
It Wasn't a Level Playing Field Ever, But Now
The Word Is
Scarier For Women
"If You Want Something Said, Ask A Man;
If You Want Something Done, Ask A Woman"
- Margaret Thatcher
Dear Reader,
This is Madhurika Sawant, the Head of Customer Service at PersonalFN.
Today, I have to tell you about something.
It was a few days ago when I was on a video call with our entire team here at PersonalFN.
We were discussing some business matters as usual when suddenly, the whistle of the pressure cooker went off in my background.
It startled all the men on the call, while the women remained unfazed!
Vivek, our Head of Research asked "Did you guys not hear that!?"
And a very serious meeting turned to a laughter club for some time.
Which then led the discussion to how women have helped the world cope up with the pandemic!
To which Vivek said something that made us all very proud.
He said, "There is no doubt there... If it wasn't for women, we men probably would have destroyed the planet in this pandemic"
And it did get me thinking!
As a woman, the onus of running the house and keeping all the raging frustration in the family in check, fell onto us.
Of course, the men helped with household chores (Not sure if out of compulsion or boredom, but they did).
But women spent the entire time this past year worried sick, but still holding fort like a rock.
My own fears I had come crawling back.
Will my husband have his job?
Will I have my job?
Do we have enough liquidity in case something untoward strikes?
What about our investments in a world where markets were crashing like a house of cards?
The pressure mounted by the day and it seemed like nothing is in my control anymore.
But then we saw some light at the end of the tunnel.
The vaccine is here!
We will hopefully see normal day soon and get back to what we were always doing.
But what if something like this happens again?
I don't think me or any other woman for that matter would like to go through the same helpless & lost control feeling again.
Because when it comes to our family, NOTHING is of a higher priority.
So, I talked to Vivek and Rounaq (Head of Content), asking them to do something specifically for women.
They were onboard even before I completed my statement.
Something that can very well make you the pillar that every family looks up to in testing times.
And after weeks of brainstorming, we designed what we think could ensure peace of mind even in times of uncertainty.
Introducing PersonalFN's Exclusive

'Certified Family Guardian'
Let's start with one of the most verified sayings in the world of finance.
Knowledge is power.
Isn't that right?
So, what if you knew:
What metrics to judge a mutual fund upon if you want the best outcome?
Where to invest your savings now so that your family could benefit from it in future?
How to hedge your risks for today and tomorrow to keep your family safe on a rainy day?
Think about it.
You won't have to blindly rely on less trustworthy sources.
After all, the sources might not be up to the strenuous job of providing the right financial advice in today's complicated market.
But you need to safeguard yourself and your life's hard earned savings from any dubious and unworthy decision, that could affect your family's future.
The only way to that is, empower yourself with the weapon of KNOWLEDGE.
And that's exactly what PersonalFN's 'Certified Family Guardian' could help you with.
In the next few minutes, we will tell you ALL about the simplest and easiest way to approach your most important task, that is, planning your financial future.
Right from helping you to learn how to figure out your needs to drawing out a clever strategy to achieve your financial goals…
…this is what we envisage for you.
Something that you can rely upon for every financial decision you make.
A great mentor to help you evolve into a Family Guardian Financially…at last!
Don't confuse this with the old financial sales pitch that you see all over the internet.
That is a mistake we don't want you to make.
This is a very special initiative, only for smart investors who want the best for their family now and in the years to come.
We want to groom our readers, empower them in such a way that they can be a financially independent family guardian.
And how do we do that?
Introducing The "Certified Family Guardian" E-Course
Your Comprehensive A To Z Guide To Become Your Own Financial Planner
We, at PersonalFN, come with a long history of empowering average Indian investors since 1999, in every aspect of personal finance, covering the fearsome and fuzzy lands of mutual funds, gold, insurance and so on.
And presently, the only question on our mind was, "How can we help women become a financial guardian for their families?"
After many brainstorming sessions and to and fro trips to the white board, the Certified Family Guardian was born
This is an all-in-one exclusive video series that is expected to be your "ready companion" that would empower you to take key financial decisions for meeting your life goals.
Want to know how much should you save and invest?
Want to know whether you should take medical insurance?
Want to know how to write your will?
The Certified Family Guardian has you covered.
So What Do You Get As A Subscriber To The Certified Family Guardian E-Course?
Separated into 8 modules, this exclusive e-Course is a 5 Hour study, spread over 3 weeks, with 24 extensive videos that detail the ins and outs of every possible topic related to your personal finance, starting from budgeting to planning your life goals; from insurance planning to estate planning.
You need to be confident in yourself, to take your own financial decisions, so that when you go to sleep at night, you know that your hard-earned savings are safe and you will wake up to see a nicer tomorrow.
And that's what this exclusive e-Course will do for you.
It will help you become your OWN financial planner.
It will answer MOST of your questions that you might have, and armour you with the necessary financial knowledge against the misty dark that surrounds today's capital market.
If you subscribe to the Certified Family Guardian e-Course To Become Your Own Financial Planner, here's what you will get access to:
Module #1: How To Make Your Budget & Design Your Cash Flows
Module # 2: How To Plan Your Key Life Goals
Module # 3: The Right Approach To Insurance Planning
Module # 4: Prudent Ways To Plan Your Investments
Module # 5: Tested Ways To Retire Rich
Module # 6: All You Need To Know About Estate Planning
Module # 7: How To Ensure That Your Loans Do Not Become A Burden
Module # 8: Key Learnings From Investment Gurus
Once you successfully complete all the modules, you will get a virtual certificate which will testify that you are now A Certified Family Guardian.
Something like this: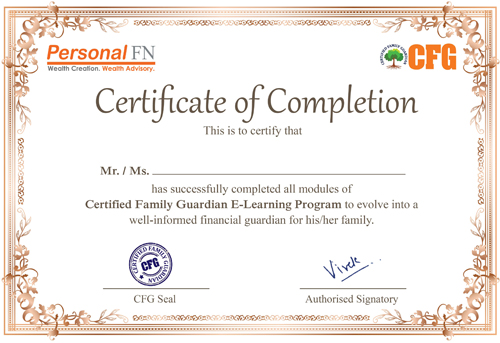 You are now your OWN financial planner.
Now before we say good bye, here is a good news!
We Want Women In The Forefront
At PersonalFN, we have always tried our best to make our offerings gender neutral.
Because unlike many in the market, we do not believe that investment is a gender specific area.
In fact, we strongly believe that women are way better in handling investments and finances.
Let's not forget that the finances of a country of 1.4 billion is handled by a woman!
In our journey of over 20 years, we have seen many successful investors making money, only to discover their wives/daughters/sisters pulling the strings behind the curtain.
So, we honestly want women to now come to the forefront and lead with pride.
In turn, it is our promise that we will leave no stone unturned to ensure we give across the best of investing world to them.
It's time the women become official 'Certified Family Guardians'.
Having said that, as much as we want the women to act right away, this offering is for all.
For every woman and investor, out there like you, who probably doesn't have much knowledge about the financial jargons, the tricks and tactics of the industry, this exclusive E-Course is an absolute must, keeping in mind today's circumstances.
Don't waste a moment more…
A Special Founder Member Discount
Only For First 500 Subscribers
This exclusive Certified Family Guardian E-Course is available at a reasonable price of Rs 5,000 only.
Honestly, given everything that you get along, you can consider it FREE.
But even then, you don't have to pay Rs 5,000…
This is one of our most ambitious offerings.
We have put years of our knowledge and our experience in handling financial dilemma of a regular investor into this e-Course.
We believe, it contains the very fundamentals of investing to advanced planning of life goals, highly useful for all types of investors, beginner and advanced alike.
And that's why we really, really want to reach as many women and investors investors as we can.
Our primary motive here is that nobody should pass it away just because they can't afford it.
However, we can't offer a lower price to everyone.
But we can definitely do something special for our founder members.
If you subscribe now, all you pay is Rs 5,000 499 only.
That is a MASSIVE discount of OVER 90 PERCENT!
We don't do this every day.
But there's a catch.
Only, the first 500 subscribers will be able to avail of this opportunity at this huge discount.
We cannot offer everyone this awesome offer, after all. Hope you understand.
After the first 500 subscribers limit passes, the price would return to the normal, that is, Rs 5,000 only.
Please do remember, time is running out, we must say.
Still thinking?
Don't Think Anymore!
This is one of its kind opportunity whereby we vest in you the power to write your family's financial destiny.
We hope you take the right decision.
Act Right Now!
To your wealth,
Madhurika Sawant
P. S. Don't miss this founder member offer to get a service that empowers you to achieve Financial Freedom for your family. Get access to the Certified Family Guardian e-Course today, and arm yourself with the A To Z of Personal Finance.
P. P. S. Avail this exclusive founder member offer and get OVER 90 PERCENT DISCOUNT today. It's now or never.
---
*Price inclusive of applicable Goods and Services tax
** The performance data quoted above represents past performance and does not guarantee future results.
© Quantum Information Services Pvt. Ltd. All rights reserved.
Any act of copying, reproducing or distributing this newsletter whether wholly or in part, for any purpose without the permission of PersonalFN is strictly prohibited and shall be deemed to be copyright infringement.
Disclaimer: Quantum Information Services Pvt. Limited (PersonalFN) is an independent Mutual Fund research house and SEBI Registered Investment Adviser (Registration No. INA000000680). All content and information is provided on an 'As Is' basis by PersonalFN. Information herein is believed to be reliable but PersonalFN does not warrant its completeness or accuracy and expressly disclaims all warranties and conditions of any kind, whether express or implied. The Services rendered by PersonalFN are on a best effort basis. PersonalFN does not assure or guarantee the User any minimum or fixed returns. The Services are designed and provided based on the information and documentation furnished on this website/to the Personalfn by the User. The recommendations/advice made by PersonalFN are subject to several risks & other external factors not in the control of PersonalFN such as financial markets, macro and microeconomic factors, and other factors that can cause an adjustment in the User's own financial situation and the progress of the User's plan. The results may be based on certain assumptions. PersonalFN and its employees, personnel, directors will not be responsible for any direct / indirect loss or liability incurred by the user as a consequence of him or any other person on his behalf taking any investment decisions based on the contents and information provided herein. Use of this information is at the User's own risk. This is not directed for access or use by anyone in a country, especially USA, Canada or the European countries, where such use or access is unlawful or which may subject PersonalFN or its affiliates to any registration or licensing requirement. The User must make his own investment decisions based on his specific investment objective and financial position and using such independent advisors as s/he believes necessary. Past performance is no guarantee of any future results. Mutual Fund investments are subject to market risks, read all scheme related documents carefully. Quantum Information Services Private Limited (PersonalFN) may hold shares in the company/ies discussed herein. As a condition to accessing PersonalFN's content and website, User agrees to our Terms and Conditions of Use and Privacy Policy, available here.
Quantum Information Services Private Limited Regd. Office: 103, Regent Chambers, 1st Floor, Nariman Point, Mumbai - 400 021
Corp. Office: 103, Regent Chambers, 1st Floor, Nariman Point, Mumbai - 400 021.
Email: info@personalfn.com Website: www.personalfn.com Tel.: 022 61361200 Fax.: 022 61361222 Mob.:8422907179 Mob.:8422907179 Mob.:8422907179 CIN: U65990MH1989PTC054667
SEBI-registered Investment Adviser. Registration No. INA000000680, SEBI (Investment Advisers) Regulation, 2013