This does not constitute investment advice. Returns mentioned herein are in no way a guarantee or promise of future returns. Mutual Fund investments are subject to market risks. Please read all scheme-related documents carefully.
-:: Exclusive Offer ::-
Our Proven S.M.A.R.T Strategy to Discover Hidden Gems...
Backed By Over 15+ Years of Experience,
This Has The Potential to Beat the Market by
As Much As A Huge 70 Percent!
Dear investor,
They call it 'genius'.
We just call it S.M.A.R.T.
Our special winning fund research process that has went to fetch unprecedented returns for our investor followers over last one and half decade.
How much?
Let's say, if someone was to put Rs 1,00,000 in our recommended funds in 2003, it would have turned over Rs 17,00,000 today.
Our success rate is over 65 percent!
That is, two out of three mutual funds are right on target.
And quite a handful of these chosen funds have gone on to fetch double or even triple digit investment returns over time.
So, if you care about finding the most moneymaking opportunities, read on.
...for we have something special for you.
Listen, this letter is actually different from our other letters.
Because this is not a sales letter.
This is not really an advertisement.
This is our bare-it-all letter on how we do what we do.
Find highest potential mutual funds very often.
...that escaped normal public eye.
But it's not a fluke either.
It's based on scientific and practical, time-tested ideas, and...
Today, we are going to reveal the exact step by step process we follow to achieve this.
But hey, isn't mutual fund investing easy?
We mean, thousands of media talking heads, those sober-sounding journalists and even your "expert" relative knows which funds to invest in, right?
Well, let us say the obvious yet most overlooked then.
You see, mutual funds have a notorious tendency of going wrong, even when everything seemed right.
Or, in other words, your favorite mutual fund might just be a worthless "dud". (No offense!)
And there's a reason we say it.
Breaking the Bad News!
If you are a mutual fund investor, we hate to break the bad news.
There is a sixty five percent chance that you are invested in the WRONG mutual funds.
Or let's state it in a more direct way.
Our research says, two out of three mutual funds out there are worthless investments-they are not making enough return on your investments.
These funds are not able to beat the stock market, namely the BSE-200 - TRI index.
These funds are literally underpaying you for the risk you incur on your investments.
Wait, that's not all.
Our research also found out that as much as 80 percent of the outperforming mutual funds beat the market by a CAGR of less than 3%!
So, basically when the previous "losers" could not even outperform the market, these ones do...but by a minimal percentage.
Honestly speaking, as much as 65 percent of all mutual funds out there may be WORTHLESS INVESTMENTS.
In other words, over 6 out of every 10 mutual funds are just not worth your time and money.
Yes, this is the bad news.
The expensive research expenses.
The frequent trading overheads.
The high management fees.
All these bear on the fund's quality and you end up with a loser at hand.
However, there is always a silver lining behind every dark cloud.
Think about it.
If six out of ten funds are bad, what about the rest four?
Those are the WINNERS, my friend.
These funds have potential to routinely beat the market...by a wide spread.
These funds may perform consistently across several market cycles.
These funds can be long-term value creator for your money, unlike the rest.
These funds have the ability to make you wealthy!
But how do you find out these winning mutual funds?
The answer to that question is one word.
FundSelect.
If you have been waiting for a 360-degree mutual fund research solution, this is the one for you.
Keep reading till the end, and you might be in for a nice surprise.
But before that...
Introducing 'FundSelect'
A credible mutual fund research service with a track record of over 15 years.
Yes, you read it right.
FundSelect is not an ordinary mutual fund research service.
It is one of the oldest mutual fund research services in India, with a history of over 15 years.
We have always believed in taking the honest path, even if it's not easy. And we took one 15 year back.
Back then, there was nothing really known as "independent mutual fund research" in India.
Most entities entering financial services business then, were either getting into stock broking, or insurance selling, or mutual fund distribution. This path was easier to take and the money to be made from commissions was enormous.
But the mandate to serve the small investor was nowhere to be seen.
And that's when we thought of doing something different for the gullible investors.
Although the decision was challenging, and we even faced criticism for what we were intending to do...somewhere we were convinced that there was a genuine demand from small investors for authentic, independent and unbiased research on Indian mutual funds.
Of course, the money managed by Indian mutual funds then was just around 5% of what it is today.
And we knew, there were still plenty of funds to be launched that needs to be researched...and avoided in the interest of investors.
So we decided to offer our mutual fund research services under the brand called "FundSelect".
The Rest, As They Say, Is History!
It seems like yesterday, but over the past 15 years, FundSelect has been helping mutual fund investors...
Identify potentially the best mutual funds to invest in

Identify the dud mutual funds to avoid
The aim of this service has always been to identify the 'right' mutual funds that can meet your long term financial goals.
That's not all, we also recommend funds you must avoid at all cost (and there are many of these around right now).
This is what we have been doing for the past 15 years, benefitting the lives of thousands of people who have been our subscribers at different points during this decade.
And why not?
FundSelect carries the pedigree of PersonalFN, which is amongst India's leading mutual fund research and financial planning brand. We are known for our credible, unbiased, and market-beating mutual fund research, and our subscribers would vouch for that...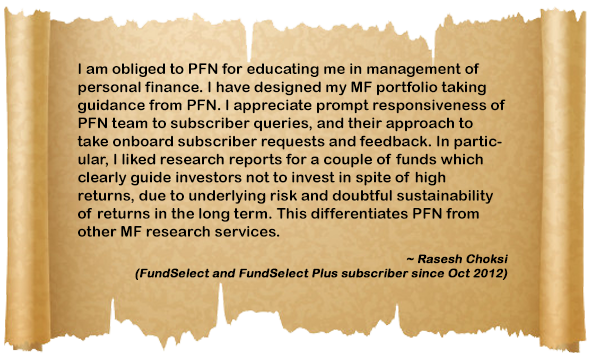 A Time Tested Way that Helped Beat the Market...
By As Much As 70%!
FundSelect is our premier equity mutual fund recommendation service that aims to help you discover those exclusive fund investments, out of the over 450 equity mutual funds out there in the market, which come with solid potential to make money in long run.
FundSelect focuses primarily on two goals, viz. consistently higher returns and significantly lower costs, coupled with a process-driven fund selection methodology, thus probably maximizing your gains over time.
We believe there is no sense in investing otherwise.
FundSelect has been based on one simple motto: "Be steady. Be alert. Be winning."
This shows in our long performance track record.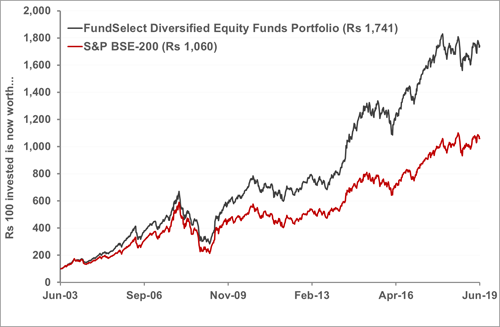 Source: ACEMF, PersonalFN Research
Performance as on June 28, 2019; Past performance is no guarantee of future results
Every Rs 100 invested across FundSelect recommendations since June 2003, has now grown to Rs 1,741, as against Rs 1,060 for every simultaneous investment of Rs 100 in S&P BSE 200.
That's an outperformance in return, by around 70%!
Do You Want An Extra Rs 6.5 Million?
That is how great funds can turn out to be.
With an extra 70% in return, you could reap higher returns (read "a lot, lot higher").
For example, let us assume that you invested Rs. 1 million in our recommendations since June 2003. While the S&P BSE 200 index would have returned Rs 10.60 million, FundSelect's chosen funds would have returned a whopping Rs. 17.41 million - outperformance by around 70%!
That means, by investing in funds recommended under FundSelect, you could have earned around Rs 6.8 million more on your investment of Rs 1 million.
Now you might be wondering about our methodology that helps us identify the long term winners.
Under FundSelect, we use our proprietary SMART Score Matrix to select high quality mutual funds that have superior wealth-building potential.
"What is the SMART Score Matrix?"
We select mutual funds on the basis of 5 variable tests, viz. Systems and Process, Market cycle performance, Asset management style, Risk-reward ratios and Performance Track Record.
| S | M | A | R | T |
| --- | --- | --- | --- | --- |
| Systems and Processes | Market Cycle Performance | Asset Management Style | Risk-Reward Ratios | Performance Track Record |
So, each fund recommended by PersonalFN has to go through our stringent process where they are tested on these five essential parameters.
It's like taking a test on five different qualities and getting scores from a very strict teacher!
What we normally try to see in these funds are as follows:
The fund manager possesses decent experience and is not overloaded with multiple schemes. Moreover, the fund house should have well defined investment systems and process in place.

The fund has successfully generated positive returns across market cycles, viz. bullish and bearish. It is important the fund has the ability to limit your losses during crisis.

The portfolio should not be too concentrated, highly churned or low quality. It should be managed efficiently.

The fund must offer adequate return for the risk incurred. It should not be putting your money to unnecessary risk.

The track record of the fund in terms of generating return on investment over various time periods like 1 - year, 3-years, 5-years and so on.
This matrix is specially developed by the in-house research team at PersonalFN and we believe, it's one of the finest and reliable fund selection methodologies in the industry today.
Why? Because it has shown successful results over time! Identifying Long-Term Players Has Been Our Specialty Always!
FundSelect has been successful in identifying long-term players.
Look At The Numbers For Proof!
Hours of grueling research and intense number crunching goes into each of our recommendations.
And the charts below prove that our recommendations are superior.
1,455% Absolute Return in 14 Years 4 Months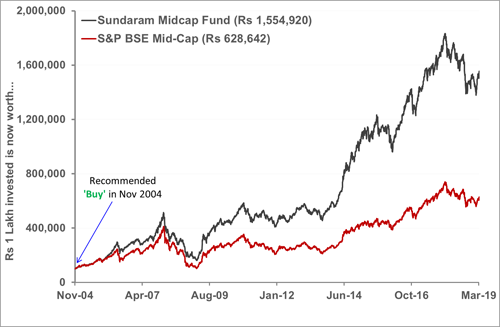 Source: ACEMF, PersonalFN Research
Performance calculated using NAVs for period 08-Nov-2004 to 29-Mar-2019; Past performance is no guarantee of future results
FundSelect has been successful in identifying true long-term players.
Take the case of 'Sundaram Midcap Fund'.
We identified the wealth creating potential of the fund quite early in November 2004, and recommended it to our FundSelect subscribers.
Since then the funds value has grown by 1,455% and has created wealth for our subscribers. This is over 900% higher returns than the benchmark S&P BSE Midcap that has registered a growth of 529% in value.
Rs 1 Lakh invested in Sundaram Midcap Fund in 2004 would have by now turned to over Rs 15.5 Lakhs, in a period of around 14 years 4 months.
The funds potential has always remained intact and has never moved to our Sell, irrespective of market conditions.
This also signifies the ability of our research team to form a long-term view on the fund.
And there are many such funds that have been timely identified and recommended under FundSelect.
263% Absolute Return in 7 Years 10 Months
Source: ACEMF, PersonalFN Research
Performance calculated using NAVs for period 16-May-2011 to 29-Mar-2019; Past performance is no guarantee of future results
Here is another example of our early picks on the fund. Though it took almost 4 years, for HDFC Midcap Opportunities Fund to make it to our buy list, it made a big impact in terms of performance going forward.
We tested the fund in and out to be sure about its wealth creating potential before first recommending it under FundSelect in May 2011, when its size was just about Rs 1,300 crore.
And within 7 years time, the fund became quite popular among investors to become the largest mid cap fund in the country, with its AUM crossing Rs 20,000 crore in December 2017.
In terms of wealth creation, the fund has grown over 3.5 times in about 8 years, as against 2.5 times growth in its benchmark Nifty Midcap 100 - Total Return Index.
Rs 1 Lakh invested in HDFC Midcap Opportunities Fund in 2011 would have yielded Rs 3.63 Lakhs, in 7 Years 10 Months.
225% Absolute Return in 7 Years 5 Months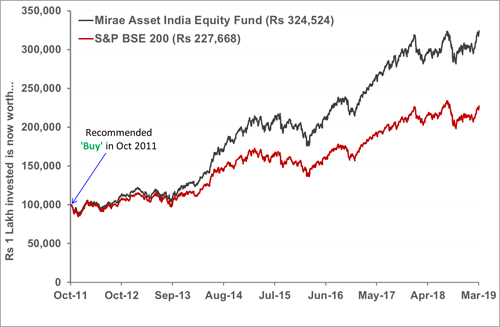 Source: ACEMF, PersonalFN Research
Performance calculated using NAVs for period 31-Oct-2011 to 29-Mar-2019; Past performance is no guarantee of future results
PersonalFN has always given more importance to systems and processes, instead of brand and popularity.
This can be identified from our recommendation of a fund belonging to a new and little talked about fund house - Mirae Asset Mutual Fund that had in 2011 completed just 3 years of operation in India.
After understanding the systems and processes followed at Mirae Asset Mutual Fund, we were very clear about its fund management quality and the long term potential of its funds.
Its flagship scheme, Mirae Asset India Opportunities Fund (now known as Mirae Asset India Equity Fund), was hardly known to investors. The fund was very small with a corpus of less than Rs 200 crore, then.
This is when PersonalFN identified the early potential of this fund and recommended it to FundSelect subscribers in October 2011.
The fund did not disappoint us in terms of expectation, and has consistently rewarded investors across market conditions, beating its benchmark S&P BSE 200 by a significant margin.
We always aim to identify true long-term players...and our next fund tells you about the...
Longevity of Our Recommendation
If you think, our views can change overnight... we are glad that you may be proved wrong.
Here is the performance of HDFC Equity Fund since the time it was recommended under FundSelect in May 2004.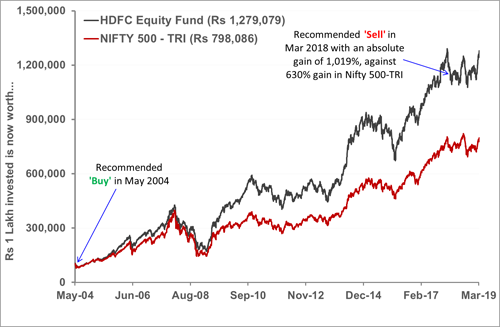 Source: ACEMF, PersonalFN Research
Performance calculated using NAVs for period 03-May-2004 to 29-Mar-2019; Past performance is no guarantee of future results
In the last 15 years, the fund has seen many ups and downs in terms of performance, but the fund management quality and conviction stood by its side.
This helped it grow over 10 fold in terms of value.
Rs 1 Lakh invested in the fund had grown to well over Rs 12 Lakh before we finally gave a Sell call on the fund.
So in terms of longevity of views, FundSelect won't disappoint you.
Look for Quality and Not popularity
FundSelect will never try to go with the herd.
Each fund recommended under fund select goes through our stringent process, where they are tested on both quantitative as well as qualitative parameters.
Only the funds that pass through this test will make it to our recommended list.
We may not recommend a fund just because they are popular among distributors and investors.
Similar is the case with Reliance Multi Cap Fund (popularly known as Reliance Equity Opportunities Fund)...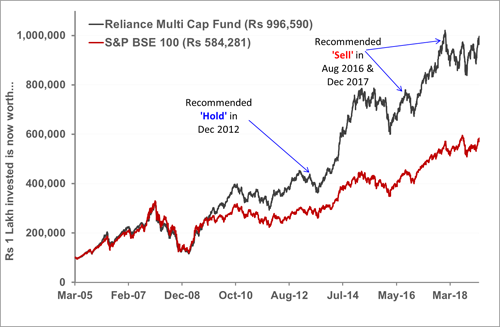 Source: ACEMF, PersonalFN Research
Performance calculated using NAVs for period 28-Mar-2005 to 29-Mar-2019; Past performance is no guarantee of future results
Despite being popular among investors, this fund has never made it to our Buy list- the reason being quality and its inability to limit downside risk.
That's the reason why we did not shy away from giving a Sell call on the fund, even while it was recommended by others, based on star ratings.
FundSelect has been quite stringent when it comes to recommending high quality funds, backed by strong systems and processes.
Timely Identifying Long Term Laggards
We have always asked our subscribers to stay away from inconsistent and poorly managed schemes like JM Large Cap Fund (Erstwhile JM Equity Fund)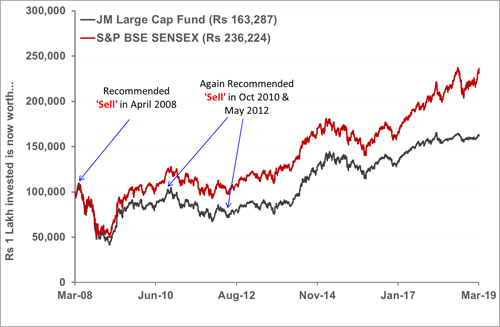 Source: ACEMF, PersonalFN Research
Performance calculated using NAVs for period 28-Mar-2008 to 29-Mar-2019; Past performance is no guarantee of future results
Over the last 10 years, rather 20 years, the fund has significantly underperformed its benchmark as well as most of its peers.
FundSelect time and again attempted to save its subscribers from entering a worthless fund.
Here's another example...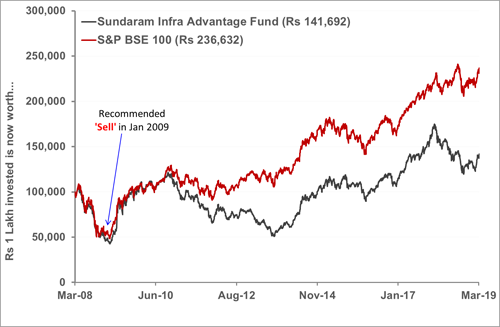 Source: ACEMF, PersonalFN Research
Performance calculated using NAVs for period 28-Mar-2008 to 29-Mar-2019; Past performance is no guarantee of future results
Have you heard about Sundaram Capex Fund? (now known as Sundaram Infra Advantage Fund)
The fund that became investor's favourite during the infrastructure and capital boom in 2007. Its AUM doubled, rather tripled within months, in the year 2007.
Unfortunately, hype doesn't sell for long in finance.
Many investors in this fund found themselves on the back foot, when the rally in the infrastructure came to a break during the 2008 subprime crisis. Notably many stocks in this sector have not yet recovered and so has the fund.
We Make Mistakes Too!
Everyone makes mistakes, so did we...
Some of the funds recommended under FundSelect, did not meet our expectations. Moreover, we got the timing wrong.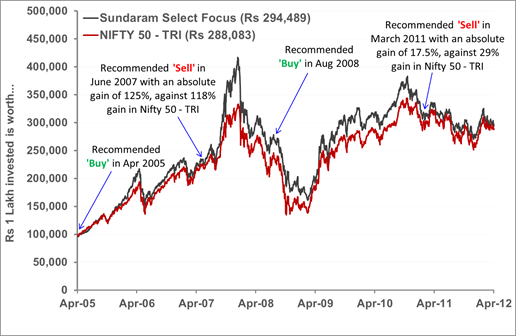 Source: ACEMF, PersonalFN Research
Performance calculated using NAVs for period 25-Apr-2005 to 25-Apr-2012; Past performance is no guarantee of future results
In the first phase (between April 2005 to June 2007), our recommended Sundaram Select Focus, performed nearly in line with the benchmark, while underperformed many of its peers. We got impatient with the performance and gave a Sell call on the fund.
Within next few months, the fund entered its first leg of outperformance, and the subscribers who acted on our recommendation missed the opportunity. Though it didn't last for long.
In August 2008, we gave the fund another chance. But this time it completely disappointed on the performance front. Despite giving it, well over two good years, the fund failed to make much impact and turned out to be one of our poor recommendations. In March 2011, we finally gave a Sell call on Sundaram Select Focus.
Similar was the case with Principal Multi Cap Growth Fund (earlier Principal Growth Fund).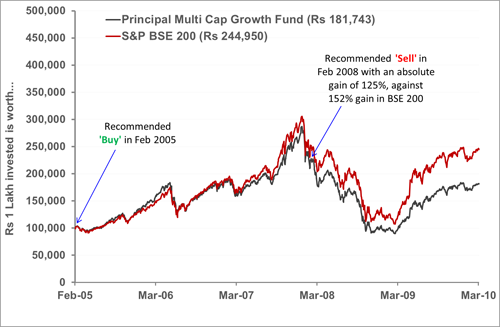 Source: ACEMF, PersonalFN Research
Performance calculated using NAVs for period 28-Feb-2005 to 31-Mar-2010; Past performance is no guarantee of future results
Though fund made around 125% gain in 3 years post our recommendation in February 2005, it did underperform the benchmark S&P BSE 200 by about 27 percent point.
With the change in view on the fund, it was recommended a Sell in February 2008.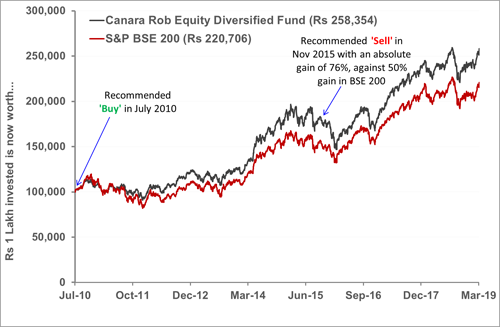 Source: ACEMF, PersonalFN Research
Performance calculated using NAVs for period 05-Jul-2010 to 29-Mar-2019; Past performance is no guarantee of future results
Canara Robeco Equity Diversified Fund was yet another scheme recommended under FundSelect in July 2010, that didn't go down well as per our expectation in terms of returns. Moreover, few quick changes in fund management further affected the performance.
Though it outperformed the S&P BSE 200 index over 5 years' time, it trailed many of its category peers.
In November 2015, we asked our subscribers to exit the fund, while it made 76% absolute gain in a little over 5 years' time.
So, we are not infallible, to be honest.
However, you must note here that...
We have a success rate of a whopping 68 percent!
So, around seven out of ten FundSelect recommendations go on to making solid investment gains for the investors.
Or in other words, it can be safely said that even if you happen to underperform or incur slight losses by chance, you will be more than compensated for it by the gains from other funds that you invest in.
Our fund recommendations tend to beat the market by a significant margin over long time periods.
Once you subscribe to FundSelect, you will get instant access to potentially the best mutual funds in terms of returns they offer and thus strengthen your investment portfolio in future.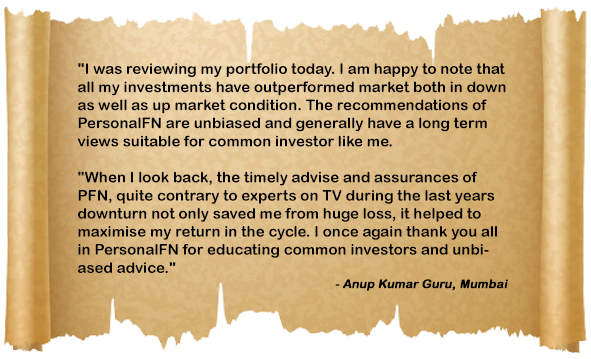 Why Choose FundSelect Today?
Earn Market Beating Returns - If you want to dramatically increase your chances of beating the market, then FundSelect could be the right choice for you. Our recommendations under FundSelect have beaten the BSE-200 index returns by over 70% in the last 15 years, and we are working hard to ensure that the performance continues in the future as well!

Become a Savvy And Confident Investor - No, you don't just get fund recommendations to buy or sell. Rather we, through FundSelect, aim to guide you about the fundamentals of successful money management. Educating you about the various strategies and core philosophy behind mutual fund investments. This will help you evolve into a smarter investor who can then make even better investing decisions.

Identify Optimum Funds For Your Portfolio - We are not just sending you fund recommendations. Through our regular Buy, Sell or Hold recommendations, we guide you to build an potentially optimum fund portfolio suited to your goals and objectives. All these funds pass through our solid research process, undergoing strict selection process including both qualitative and quantitative parameters. Moreover, as a member of FundSelect you also get access to fund recommendations across various investment styles and market caps - including large cap, midcap, multi cap, value-oriented and growth oriented. All this will help you build the portfolio that suits you best!

Save On Extra Commissions And Fees - Rule of the thumb, as an investor, is not to waste money. Thus, don't splurge your returns on high extra commissions and unnecessary fees. Save thousands of rupees just by selecting the right fund that cost you less. And trust us on this...over longer periods of time, the impact is even higher!

Keep A Close Watch On Your Investments - Forgetting about your investments once you have put your money in it is one of the most serious mistakes an investor can make. And that's where our regular performance updates on our fund recommendations is going to be of immense help to you. It will help you keep a close watch on your fund investments.

Employ Allocation of Your Investments - Asset allocation is a key factor in optimizing your investment portfolio according to your goals and objectives and thus gain higher returns over time. With our regular updates on the ever-changing market conditions and the promising funds in the current market, you will be able to maximize your gains and keep your risk exposure at tolerant levels - keeping in line with your long-term investment targets.

Save Time and Energy - We, at PersonalFN, make sure to make the investment process as seamless and tension-free as possible. Simplify your life...Save your precious time and energy with readymade information available at your fingertips every month! All you can do is follow the recommendations diligently and build your portfolio. It doesn't get much easier than this.
In short, FundSelect is an all-purpose equity mutual fund recommendation service that helps you to build wealth over the long-term in the easy going and most certain way as possible.
Quite a VALUE for a nominal yearly subscription Fee of Rs. 5,000 only.
The timely and impactful fund recommendations every month...
The regular and exhaustive industry studies...
The occasional free notes and online materials...
The value that you get makes up for such an insignificant price to pay.
Not to mention the fact that you can almost ensure a double digit portfolio return with that meager annual cost.
And if you sign up now, you don't have to pay full price as well.
You see, FundSelect is priced at Rs 5,000 for a year's subscription.
But, if you sign up now, you can get access to FundSelect for just Rs 2,950 (You will never see this offer again).
That's a heavy discount of over 40 percent!
Can you manage to spare Rs 5 per day for your financial future?
Get on board now, and...
We are going to add extra 3-months subscription as a complimentary bonus—at NO CHARGE at all.
We can't keep such an incredible offer open for a long time.
What are you waiting for?
Still thinking? Let's find out what MORE you get with FundSelect.
Instant Access to Your Subscription Includes...
FundSelect assists you in discovering potentially the "best of the best" equity funds in the market and thus build a solid fund portfolio through discipline investing throughout time.
If you think, you have missed our past recommendations! Do not worry. You can access the archive of our all FundSelect reports by logging in to your PersonalFN account, anytime.
Not only do you get to know about the top-performing high-quality equity mutual funds but also the underperforming or low potential funds as well.
Apart from that, you will also get access to regular updates for the recommendations we make.
Our regular updates will let you know whether our fund recommendations are really up to your expectations or not and thus calibrate your portfolio according to the ever-changing market dynamics.
Wait! That's not all.
There's much more for you. We, at PersonalFN, believe in empowering you as an investor in making the PERFECT investment decisions. And for that, we have included a few goodies along with the package as well.
With FundSelect subscription, you also get:
Bonus #1: DebtSelect
For all those investors who want the best of both worlds, that is, equity and debt, rolled into one, it's time to rejoice.
DebtSelect, our popular debt mutual fund research services is now available with FundSelect. It is one of our flagship products and we decided to make it more accessible to our subscribers.
If you are a debt fund investor and didn't subscribe to DebtSelect before, we believe you will derive great value from that.
Under DebtSelect, you will receive 2 Actionable and Timely Debt Mutual Fund Recommendations Per Month PLUS Regular Update on DebtSelect recommendations to let you build a stable-returns portfolio.
If you are planning to invest towards your low risk goals and are looking to grow your money steadily over time, DebtSelect will be of help to you.
And as a FundSelect subscriber, not only do you get to know about the most promising equity mutual funds but also the time-tested debt mutual funds for stable returns.
What's more?
You DO NOT have to pay DebtSelect's usual subscription fee of Rs 2,500 per year.
Bonus #2: Fund Watch
Apart from the regular fund recommendations, you get an insider view of what the PersonalFN research team is tracking at present.
In fact, we are constantly on the lookout for top-performing funds that have yet not made it to FundSelect but continue to be on our radar.
Remember, NOT all top-performing funds are worth your money.
And that is why we keep a close "watch" on these attractive funds to ensure that they make it to the FundSelect recommendation list when they meet all the parameters in our stringent selection process.
Bonus #3: New Fund Offer (NFO) Research
With the change in market sentiments, a lot of equity funds, whether open-ended or close-ended, are cropping up every day.
We will assess each one of those New Fund Offers (NFOs) and examine their viability as an investment avenue through our NFO Reports.
And that comes for FREE with your subscription!
Bonus #4: Investment Ideas Notes (Monthly)
Let us accept a stark fact today.
There is simply too much noise around. Most of the brokerage houses, media, financial portals and various finance blogs...all are ready with their "expert" views and opinions on what's going on in the market.
But can you really trust all of them? Probably no. In fact, we, at PersonalFN, believe that your chance of losing money multiplies when you follow someone else's bad advice, instead of doing a bit of research yourself.
That is why we ensure that our monthly investment ideas provide a well-studied and factual opinion of the markets, cutting out the unnecessary noise around and help the investor make smart choices every day.
And as a FundSelect subscriber, you can get it for FREE...without any charge at all!
So you see, you get a host of benefits along with your subscription to 'FundSelect'.
The good thing is, you don't have to pay anything extra for it.
No, nothing at all.
You get all of it - Absolutely Free!
So what are you waiting for?
You got to act fast.
The benefits are huge, that you cannot afford to miss.
Avail FundSelect Super Special Offer right now.
Beat The Market By Double Digit Returns And Sleep Peacefully At Night!
As a FundSelect subscriber, we will guide you to make smart investments in mutual funds, and thus pick solid funds for your family's future needs and your retirement.
Potentially the "best of the best" mutual funds, coupled with periodical performance reports...everything that will make your investment process much simpler and surer for you!
But all this is possible when you give it a try.
To recap, here's what you get as a FundSelect subscriber:
12 FundSelect issues per year.

One year access to all our recommendations under DebtSelect.

Free access to our Fund Watch Reports.

Free access to all our New Fund Offer (NFO) Research reports, over next one year.

Free access to our monthly Investment Ideas Notes
This all-in-one premium package is designed exclusively for our valued readers like you. It can make your investment process simpler and surer for you.
Try FundSelect With 30-Days Full Money-Back Guarantee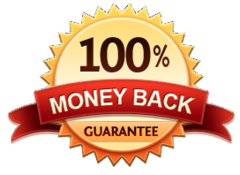 Your risk is ZERO!
...Because your subscription to FundSelect will be covered under our 30-Days - Full Money-Back policy.
You can enjoy a 30-days trial with a full refund guarantee.
Get complete access to all our past recommendations as well as our current recommendations under FundSelect for a month.
Along with the unique monthly Investment Ideas Note, Fund Watch report(s) and so on...
If you don't like it or think it is not for you, which is very rare...
Just let us know before the 31st day of your subscription and we'll refund the entire fee you paid.
No quibble, No delays!
Sounds good?
It will take only a few minutes of your time and you will be well on your path to achieving your financial goals and objectives.
And we really want to.
So don't delay!
What Are You Waiting For?
Accept our Super Special Offer by becoming a FundSelect Subscriber today.
You will not see such an amazing offer to get your hands to this invaluable service again!
Subscribe to FundSelect Today!
FundSelect Special Offer!
1 Year + 3 Months Bonus Access Unlimited Benefits
Price: Rs 5,000 Rs 2,950 (You Save Rs 2,050)
If you want to assure financial prosperity in your life, don't hesitate. Opportunity knocks on your door now.
To your wealth,
Team PersonalFN
P.S. You will never see this offer again. It's now or never! Click here to avail A Massive over 40 Percent Discount on Your 12-Months Subscription Fee Of FundSelect + 3 Months of Bonus Access, absolutely Free.. Hurry today!
P.P.S. Be a smart fund investor today and ensure that you choose potentially the "best of the best" funds out there. Be a FundSelect subscriber right now.
P.P.P.S. Sign up for FundSelect today and you will have 30 full days to decide whether or not you want to pay for this invaluable service. If not, let us know any time during that period, and you'll receive a full refund - no questions asked. That's a promise!
P.P.P.P.S. Mutual Fund investments are subject to market risk. Subscribers should consider their risk appetite and understand the suitability before acting on the recommendations.
---
*Price inclusive of applicable Goods and Services tax
** The performance data quoted above represents past performance and does not guarantee future results.
© Quantum Information Services Pvt. Ltd. All rights reserved.
Any act of copying, reproducing or distributing this newsletter whether wholly or in part, for any purpose without the permission of PersonalFN is strictly prohibited and shall be deemed to be copyright infringement.
Disclaimer: Quantum Information Services Pvt. Limited (PersonalFN) is an independent Mutual Fund research house and SEBI Registered Investment Adviser (Registration No. INA000000680). All content and information is provided on an 'As Is' basis by PersonalFN. Information herein is believed to be reliable but PersonalFN does not warrant its completeness or accuracy and expressly disclaims all warranties and conditions of any kind, whether express or implied. The Services rendered by PersonalFN are on a best effort basis. PersonalFN does not assure or guarantee the User any minimum or fixed returns. The Services are designed and provided based on the information and documentation furnished on this website/to the Personalfn by the User. The recommendations/advice made by PersonalFN are subject to several risks & other external factors not in the control of PersonalFN such as financial markets, macro and microeconomic factors, and other factors that can cause an adjustment in the User's own financial situation and the progress of the User's plan. The results may be based on certain assumptions. PersonalFN and its employees, personnel, directors will not be responsible for any direct / indirect loss or liability incurred by the user as a consequence of him or any other person on his behalf taking any investment decisions based on the contents and information provided herein. Use of this information is at the User's own risk. This is not directed for access or use by anyone in a country, especially USA, Canada or the European countries, where such use or access is unlawful or which may subject PersonalFN or its affiliates to any registration or licensing requirement. The User must make his own investment decisions based on his specific investment objective and financial position and using such independent advisors as s/he believes necessary. Past performance is no guarantee of any future results. Mutual Fund investments are subject to market risks, read all scheme related documents carefully. Quantum Information Services Private Limited (PersonalFN) may hold shares in the company/ies discussed herein. As a condition to accessing PersonalFN's content and website, User agrees to our Terms and Conditions of Use and Privacy Policy, available here.
Quantum Information Services Private Limited Regd. Office: 103, Regent Chambers, 1st Floor, Nariman Point, Mumbai - 400 021
Corp. Office: 103, Regent Chambers, Nariman Point, Mumbai 400 021.
Email: info@personalfn.com Website: www.personalfn.com Tel.: 022 61361200 Fax.: 022 61361222 Mob.:8422907179 Mob.:8422907179 Mob.:8422907179 CIN: U65990MH1989PTC054667
SEBI-registered Investment Adviser. Registration No. INA000000680, SEBI (Investment Advisers) Regulation, 2013