Finally, An Ultra-Reliable
Robo Adviser…
Backed By Honest & Unbiased Research That Outperformed
BSE-200 Index In Last 15 Years By Over 80 Percent!
PersonalFN Direct
Our new and exclusive Robo Adviser is the most experienced one.
It is also unlike the other Robo Advisers in the market in a very "special" way...
It has the Potential to reap an extra return of as much as Rs 30 lakhs in 30 years...
Dear Reader,
Brace yourself, for here it is…
The ultimate Robo Adviser that will change the way you invest!
The MOST experienced of all.
And…
It comes with a very special 'advantage' that we are going to reveal to you if you continue reading.
But before that, let's first accept the fact.
Robo Advisers are indeed a gift to mankind.
Automated investment recommendations supported by easy, online investing process.
No need of hiring investment advisers at hefty fees.
No need of going through extensive paper work.
No need of unnecessary complication for new investors.
The sweet promise that they bring to the investors is just too much.
Naturally, Robo Advisory platforms started becoming luring for investors.
In fact, so much as to lead to a craze today.
Look around.
Starting from small companies 'you haven't probably heard of' to big names in the financial industry, everyone is bringing their own Robo advisory platforms to you.
And Therein Lies The Problem…
Most of these Robo Advisers are rather "new" to the field of mutual fund investing. That's the biggest drawback of all.
In fact, most of them are mere start-ups and don't come with a solid financial market experience, which we consider as a huge setback when it comes to you.
Think about it.
No doubt, we appreciate the entrepreneurship spirit but it's about your life's savings and we think it's better to be a bit cautious about it.
Moreover, since these Robo Advisers don't come with a solid financial background, they try to make up for it with smart real-time technology.
But is it worth it? Probably not.
Why?
They are supposed to be smart, right?
Well, the problem is that they look at present quantitative data in most cases.
But numbers cannot tell the whole story. To know the whole story, one needs to read beyond the numbers. One needs to study the qualitative traits of a mutual fund scheme in depth to put a score on its financial viability.
Unfortunately, most of these Robo Advisers are not built to do so.
In fact, our research says that probably none of them factor in the fund management experience and the investment processes and systems followed by the fund house, into the equation...
...An important parameter that helps us identify consistent long term performers
Let's face the simple fact. To make the right choice of mutual funds, you need a mechanism that checks for both quantitative as well as qualitative aspects.
The only way to do this is to have a well-experienced research team.
A team that works almost every single day to find out the reliable, stable-return opportunities for you.
A team just like PersonalFN's.
Unfortunately, an infant start-up might not be able to do that for you.
Remember, we are not pulling facts out of the air. We are speaking from first-hand experience.
So amidst these robo investment platforms, WITHOUT any financial background, and probably with UNRELIABLE recommendations based primarily only on stale quantitative data…
We, at PersonalFN, decided to take the matter into our own hands.
So we have come up with an online Robo Advisory platform that is backed by  in-depth research results of our popular service, FundSelect, and that listens to your specific financial objectives as well  — one that is built on Trust, Reliability and Good Faith.
Here we are…
Introducing 'PersonalFN Direct'
PersonalFN's Very Own Robo Advisory Platform
We are finally here with a Robo Adviser that presents with a unique online portal where you can carry on your investment endeavours in the most optimal way possible.
Frankly speaking, we weren't focusing on aesthetics.
We were focusing more on functionality and ease of use.
We believe that a Robo Adviser is not supposed to be gorgeous.
However, it is expected to do the job it is intended to do.
A Robo Adviser's job is to make technology work for an investor.
Backed by our massive experience of well over 15 years in the financial market, we have come up with an exclusive virtual financial adviser , uniquely built in such way that it knows the market and above all, it knows YOU.
But wait!
What about returns? Because that what matters, right?
The Robo adviser is backed by a solid research process that goes into our popular research service 'FundSelect'—widely recommended in the investing arena for its inherent honest and unbiased approach towards financial industry.
We pride ourselves so on the viability and accuracy of our research because we have reasons to do so. Our impeccable track record is well reflected in the graph below.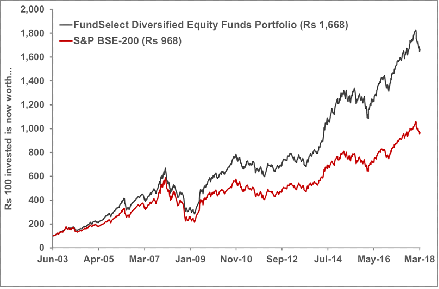 Source: ACEMF, PersonalFN Research
Performance as on March 28, 2018; Past performance is no guarantee of future results
Let us assume that you had invested Rs 1 million in our recommendations since June 2003. While the S&P BSE 200 index would have returned Rs 9.68 million, our chosen funds would have returned a whopping Rs 16.68 million - an outperformance by around 80%!
In other words, you could have earned around Rs 7 million more on your investment of Rs 1 million.
You must also note here that…
Our research has a success rate of a whopping 74 percent!
So, seven out of ten of our recommendations go on to making solid investment gains for the investors, by significantly beating the markets.
PersonalFN Direct is the ultimate Robo Adviser that is built to be your virtual guide in your journey to financial freedom.
But that's not all.
There's one more reason why PersonalFN Direct is different from the rest.
What's Special About PersonalFN Direct?
Well, let's start by asking a simple question.
Do you know what 'Plan' of the mutual fund your chosen 'Free-of-Cost' Robo Adviser recommends?
If you said no, we are not surprised much.
You see, most investors don't care about which 'Plan' of the mutual fund they are investing in.
The platform speaks of secure financial future or stable returns, and that's enough for most investors.
But by ignoring the plan you are investing in, you are making a HUGE mistake.
Because…
Most Robo Advisers out there recommend 'Regular Plans'.
Any secret reason to do that?
Of course yes, they earn high HIDDEN commissions from it, year after year.
Instead, a better way is to...
Invest in 'Direct Plans' of mutual funds.
In fact, we at PersonalFN believe that if you have a choice, go Direct always.
What's the difference between Direct and Regular plans?
While 'Regular Plans' are where your investment adviser (or the entity behind the Robo Adviser platform) gets commissions on selling those mutual fund schemes…
'Direct Plans' are different.
They don't come with any commission to advisers, brokers or alike. And thus they are obviously more desirable than the 'Regular Plans' if we come to think like investors.
But your favourite Robo Adviser probably doesn't care much about that.
Most of its recommendations might be geared more to fetching that one percent commission rather than generating higher investment returns for you.
Not something you would wish for, right?
Even a simple 1 percent in commission fee adds up to a lot over time!
Here's an example.
If a 30-year-old investor were to put Rs 10 lakh in a 1% additional expense bearing 'Regular Plan' of a mutual fund scheme, which compounds at 8% a year, his/her investment would total to Rs 76 lakhs by the time he/she retires in 30 years.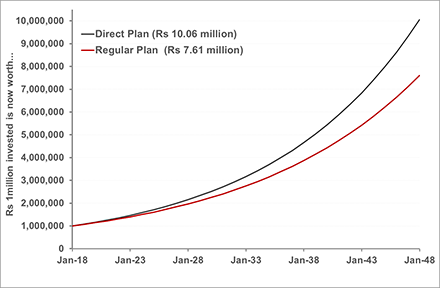 Source: PersonalFN Research
This graph is indicative and used for illustration purpose only.
On the other hand, a similar investment in 'Direct Plan', would grow to over Rs 1 crore in the same period.
So by investing in a 'Regular Plan', you are giving away one-quarter of your hard-earned savings to your adviser.
You probably could have spent it on your child's education, daughter's marriage, or on your retirement.
This is exactly where PersonalFN Direct stands out.
In this exclusive Robo Adviser, we offer ready to  invest portfolios containing "Direct Plans" of potentially the best mutual funds for your specific financial goals and objectives.
All you need to do is…
Just fill up a simple questionnaire to understand your risk appetite and what you seek to achieve in the next 2, 5 or 10 years.
And our Intelligent platform will provide you with an array of potentially the best mutual fund schemes to invest in.
Why Choose PersonalFN Direct?
Reason #1 It offers DIRECT PLANS only.
PersonalFN Direct, offers 'Direct Plans' of mutual fund schemes.
That means no losing money that goes towards paying hefty commissions to the adviser.
In fact at PersonalFN, we, believe in our independence and unbiasedness when it comes to financial advice and PersonalFN Direct follows the same philosophy.
It is completely independent in its own way.
What's more?
We take out the complex documentation process that you need to bear every time you invest in a mutual fund.
Almost everything gets taken care of when opening an account with us. Once it's done...
You can start investing in 'Direct Plan' of our recommended mutual funds directly from the platform with a few clicks!
Reason #2 It brings outstanding research experience of over 15 years. (Outperforming the BSE-200 index by 80 percent!)
Unlike most fintech companies offering robo advisory platforms, we are NOT a start-up.
PersonalFN was established in the year 1999.
It was built on the basis of trust and respect, and focused on a single premise of 'timely and actionable research advice for average investors'.
And we are happy that we have succeeded in our mission of empowering investors over all these years, evidenced by over 1,50,000 followers all over the world.
We aim to provide well-studied and sophisticated research advice on mutual fund investing, and present average investors with prompt and practical investment ideas that have helped investors grow their wealth manifold in last 15 years
Reason #3 It comes at a pocket-friendly price.
This is one of the biggest advantages of being a PersonalFN Direct subscriber.
You will get access to a ready-made portfolio suitable for your financial requirements, backed by extensive financial research, at a fraction of the price available in the market.
Over 80% Discount On Subscription Fee
If You Sign Up For The 'Early Bird' Offer

Our PersonalFN Direct subscription comes at a nominal fee of Rs 5,000 per year only (without any extra hidden cost).
But only for a limited period, we are offering access to this exclusive platform at a special discounted fee of Rs 950 only, for full one year.
That comes down to a whopping 80 percent discount!
Now we are sure you understand that we will not be able to give this offer to many people.
Hence, we can't keep it open for long.
This offer is limited only to readers who are signing up under the "Early Bird OFFER".
Registrations will close after 1000 Members or 31st of July, whichever is earlier.
If you miss the opportunity now, you may have to pay FULL registration fees to get access to PersonalFN Direct, later. A platform that has just one single purpose: building wealth for investors.
We simply focused on building an algorithm-oriented, research-backed functional application that will help you on your journey to Financial Freedom.
Keeping it minimalistic and accessible was our topmost priority.
We can tell you that even if you look around, you will find it hard to come across such a compelling wealth-creating offer.
We don't think you should wait any longer!
How Does PersonalFN Direct Work?
We have tried to keep the whole process simple and tried to make it easier for you.
You just got to follow these simple steps below:
» Complete the registration
» Submit necessary documents to activate your investment account
» Assess your risk profile
» Get a recommended portfolio based on your inputs
» Invest with a single click
Simple, enough?
Even if it is not, don't worry. Our dedicated representatives will handhold you through the process.
This is a one-time process, and you are done. As soon as you specify your financial goals and objectives on the platform, our well-researched recommendations will automatically start appearing on the screen. All that remains is for you to click and invest in the recommended portfolio.
Everything is automated, and flows in a seamless and smooth manner.
If you get stuck at any point, you are always welcome to get in touch with our representative. You will be guided in the most efficient and complete way possible.
Still thinking?
Don't hesitate now.
Here's a great opportunity to take your financial journey on a whole new level.
Embrace the new financial technology in your life and start investing in an efficient manner.
PersonalFN Direct provides you with an exclusive opportunity to build a solid mutual fund portfolio by investing in 'Direct Plans'.
Don't waste your hard-earned life's savings on indirect, hidden commissions anymore. Instead invest wisely to accomplish your financial goals and investment objectives.
Save it for your son's educational expenses.
Save it for your much-coveted foreign vacation.
Save it for your daughter's marriage.
Save it for anything you like.
It's your life, and we believe technology exists to make it better.
Try PersonalFN Direct With 60-Days Full Money-Back Guarantee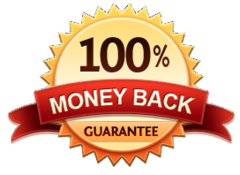 Your risk is ZERO!
...Because your subscription to PersonalFN Direct will be covered under our 60-Days –NO QUESTIONS ASKED - Full Money-Back policy.
You can enjoy a 60-days trial with a full refund guarantee.
Get complete access to the platform for full two months, and test its benefits for yourself.
If you still don't like it or think it is not for you, which is very rare…
…Just let us know before the 61st day from your subscription and we'll refund the entire fee you paid.
No quibble, No delays, NO QUESTIONS ASKED!
So what are you waiting for?
PersonalFN Direct is an optimal choice to bring financial technology to make investing process more sensible and better.
P. S. Looking for a real and automated Robo Adviser backed by over 15 years of financial research experience? PersonalFN Direct is the right choice for you. If you sign up today, you will pay mere Rs 5,000 950 for 1 year subscription fee. Don't think twice!
P. P. S. This is a special early bird discount offer. Your access to PersonalFN Direct will be activated immediately.
P. P. P. S. Sign up for PersonalFN Direct today and you will have 60 full days to decide whether or not you want to pay for this invaluable platform. If not, let us know any time during that period, and you'll receive a full refund - no questions asked. That's a promise!
P. P. P. P. S. If you have any query, you can always contact us at 022-61361200 or email us at info@personalfn.com.
---
*Price inclusive of applicable Goods and Services tax
** The performance data quoted above represents past performance and does not guarantee future results.
© Quantum Information Services Pvt. Ltd. All rights reserved.
Any act of copying, reproducing or distributing this newsletter whether wholly or in part, for any purpose without the permission of PersonalFN is strictly prohibited and shall be deemed to be copyright infringement.
Disclaimer: Quantum Information Services Pvt. Ltd. All rights reserved. Any act of copying, reproducing or distributing this newsletter whether wholly or in part, for any purpose without the permission of PersonalFN is strictly prohibited and shall be deemed to be copyright infringement
Quantum Information Services Pvt. Limited (PersonalFN) is an independent Mutual Fund research house and SEBI Registered Investment Adviser (Registration No. INA000000680). All content and information is provided on an 'As Is' basis by PersonalFN. Information herein is believed to be reliable but PersonalFN does not warrant its completeness or accuracy and expressly disclaims all warranties and conditions of any kind, whether express or implied. The Services rendered by PersonalFN are on a best effort basis. PersonalFN does not assure or guarantee the User any minimum or fixed returns. The Services are designed and provided based on the information and documentation furnished on this website/to the Personalfn by the User. The recommendations/advice made by PersonalFN are subject to several risks & other external factors not in the control of PersonalFN such as financial markets, macro and microeconomic factors, and other factors that can cause an adjustment in the User's own financial situation and the progress of the User's plan. The results may be based on certain assumptions. PersonalFN and its employees, personnel, directors will not be responsible for any direct / indirect loss or liability incurred by the user as a consequence of him or any other person on his behalf taking any investment decisions based on the contents and information provided herein. Use of this information is at the User's own risk. This is not directed for access or use by anyone in a country, especially USA, Canada or the European countries, where such use or access is unlawful or which may subject PersonalFN or its affiliates to any registration or licensing requirement. The User must make his own investment decisions based on his specific investment objective and financial position and using such independent advisors as s/he believes necessary. Past performance is no guarantee of any future results. Mutual Fund investments are subject to market risks, read all scheme related documents carefully. Quantum Information Services Private Limited (PersonalFN) may hold shares in the company/ies discussed herein. As a condition to accessing PersonalFN's content and website, User agrees to our Terms and Conditions of Use and Privacy Policy, available here.
Quantum Information Services Private Limited Regd. Office: 103, Regent Chambers, 1st Floor, Nariman Point, Mumbai - 400 021
Corp. Office: 103, Regent Chambers, Nariman Point, Mumbai 400 021.
Email: info@personalfn.com Website: www.personalfn.com Tel.: 022 61361200 Fax.: 022 61361222 CIN: U65990MH1989PTC054667
SEBI-registered Investment Adviser. Registration No. INA000000680, SEBI (Investment Advisers) Regulation, 2013