An Investment to Gain from Easing Interest Rates!

Earn more than a Fixed Deposit

Pay Lower Taxes

and that too

Without putting your money to the risks of equity markets.

The Key lies in selecting the Right Debt Mutual Funds!
Dear Reader,

Interest rates are easing out and are not far from finding the downside direction.

This scenario reminds us of the debt market rally we saw in 2008, where some smart investors played safe and earned attractive returns from debt markets at the time when people were losing money in equity markets.

As a smart investor, you care about your money; hence you will definitely want to make the most of your money by investing carefully and at the right time.

You may also be worried that you may not get these high rates again and want to make the most by parking your surplus at high interest rates.

But before you jump to the closest Bank's Fixed Deposit, STOP!

While there is no doubt that Bank Fixed Deposits come with the highest safety, the biggest disadvantage about them is that, you pay upto 30.6% tax (if you happen to be in the highest tax bracket) on the interest income. Even if you hold them for over 1 year.

Instead, if for over 1 year, you were to invest in debt instruments that we are talking about, then your tax pay out would be only 10.3%(or 20.6% with Indexation benefit).

This strategy gives you better post tax returns (more than Fixed Deposits) and without being subject to higher risk such as the one in equities or stocks.

So, what do you do? Simple, Invest in Debt mutual funds.

Debt Mutual Funds provide you exactly that benefit... returns like Fixed Deposits but at lower taxable rates. They deliver to you better post-tax returns.

But you may be wondering why mutual funds?

Simply because mutual funds help you get access to a diversified portfolio of debt instruments which you may not be able to do as an individual, unless you are investing a few crore of rupees. Hence, it is the most convenient and effective way to benefit from high interest earning debt instruments.

But how do you know which debt mutual fund scheme is right for you?

We agree, it is not an easy task to select the right debt mutual fund schemes from the universe of schemes that are available in the market today!
Debt Funds: Confusion prevails!
| Debt Fund Category | No of Schemes |
| --- | --- |
| Liquid Funds | 53 |
| Ultra Short Term (Liquid Plus) | 47 |
| Floating Rate Fund - Short Term | 16 |
| Floating Rate Fund - Medium / Long Term | 11 |
| G-Sec Fund - Short Term | 17 |
| G-Sec Fund - Medium / Long Term | 30 |
| Income Fund - Short Term | 41 |
| Income Fund - Medium / Long Term | 65 |
| Monthly Income Plans | 48 |
Source: ACE MF and PersonalFN Research
And a majority of them are worthless! Just plain copies of each other!

It may also happen that the scheme you choose, may not actually meet your investment objective, or you may fail to come across the right fund that can help you earn better tax-adjusted returns.

Before choosing a debt fund, you need to keep in mind that: Interest rate scenario plays an important part of investing in debt mutual funds. The changes in interest rates are dependent on numerous factors like liquidity and supply conditions, inflation, fiscal deficit, government borrowing plans etc.

You need to understand where the interest rates are heading, and which debt fund you should choose to invest your money based on the prevailing interest rate conditions. So, it is not a very easy job to select the 'right' debt mutual fund scheme at the 'right' time.

You will need to invest time, effort and expertise to find out which scheme would suit your investment requirement. But we have got a solution for you.

You can subscribe to PersonalFN's Independent, Unbiased, Debt Mutual Fund recommendation service - DebtSelect!

DebtSelect will take away this pain (of selecting the right debt mutual fund scheme) from you. And it will do this by delivering you experienced, unbiased and credible recommendations on debt mutual funds and help you earn better tax adjusted returns.

Our recommended debt funds are chosen on the basis of our well laid out research process of debt fund selection.

We analyse debt schemes on various quantitative and qualitative parameters like maturity profile, performance vis-à-vis benchmark index and peers, Risk-Return parameters, portfolio characteristics and credit quality, fund size, expenses, fund management etc.


But Then, You May Ask..."What's Your Track Record?"

We're just coming to that.

You see, trust in an investment advice has a direct correlation with the past performance of the advisor.

And DebtSelect won't disappoint you on that front.
Categorywise Performance of
Our Recommended Debt Mutual Funds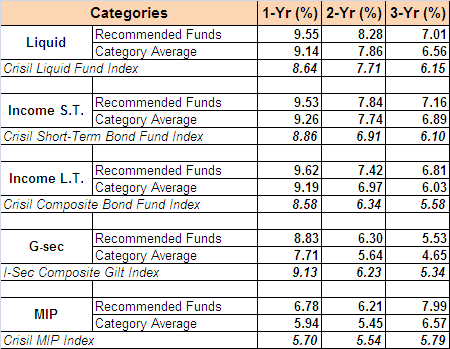 Performance as on May 21, 2012
(Source: ACE MF, PersonalFN Research)
You see, our recommended debt mutual funds (across all categories) have on an average performed consistently and have also managed to outperform their average category returns and their respective benchmark index.

Our aim is to guide you get the best returns for the least possible risk. And DebtSelect does this for you. You too can have DebtSelect at a very amazing offer. But before that...
"I was reviewing my portfolio today. I am happy to note that all my investments have outperformed market both in down as well as up market condition. The recommendations of PersonalFN are unbiased and generally have a long term views suitable for common investor like me.

"When I look back, the timely advise and assurances of PFN, quite contrary to experts on TV during the last years downturn not only saved me from huge loss, it helped to maximise my return in the cycle. I once again thank you all in PersonalFN for educating common investors and unbiased advice."

- Anup Kumar Guru, PersonalFN Client from Mumbai
When you subscribe to DebtSelect, you will get access to:
Two research reports on a Debt Fund every month (24 reports in a year)

A 'DebtSelect' report will provide you detailed analysis of:

The prevailing interest rate conditions and where interest rates are headed

Is the scheme suitable for you based on your investment horizon and interest rate conditions

Constituents of the fund's portfolio, its credit quality and maturity profile

Where the scheme stands vis-a-vis its category peers on various parameters

Does the schemes performance meet its original investment objective

Access to our archives and old reports of DebtSelect
What you get is the key to know your debt mutual fund scheme well enough to decide whether you should invest in it or not...
You will no more have to break your head on the direction of the interest rate cycle. NO MORE!

You will not have to worry about where will be the interest rate in the next six months - will they be going up or down? NO MORE!

NO MORE WORRY about "Where should I invest or park my short term / long term funds?"

NO MORE WORRY about "Why did I lose my capital by investing in an income fund or a G-sec fund?"

NO MORE WORRY about "Which is the right debt mutual fund that will suit my investment time horizon?"
You should subscribe to DebtSelect if you are
Willing to earn decent and regular returns without taking the risk of equity funds

Willing to park money which is required within 3 years

Or, simply looking for investment in solid and stable fixed income instruments which will help you get better tax adjusted return
So, all this is great. But how do I subscribe to it. What is the price of this service?

So that brings us to the most important question...

Given the number of benefits that DebtSelect offers, it should carry a huge price tag. RIGHT!

Well, not really.

There is an amazing offer we have only for you.
1. AN ATTRACTIVE PRICE!
The 1 Year price for DebtSelect is Rs 2,500. But no, you do not pay this price.

Instead let's make a Deal" If you sign up for this limited period offer you get:



15 Months DebtSelect Subscription
(12 months + 3 months Free!!!)

+

An Exclusive Debt Mutual Fund Guide
"Debt Set Go!!"



All you pay is only Rs 1999/- (all inclusive)

You See
| | |
| --- | --- |
| The Original Price for DebtSelect(15 Months) | Rs. 3,125 |
| Our Offer Price | Rs. 1,999 |
| You get a Discount of | Rs. 1,126 |
So you get our 15 months Debt Recommendation Service at a whopping 36% discount.
2. SATISFACTION GUARANTEED - 30 DAY MONEY BACK OFFER!
Yes, that is true. The offer comes with 100% guarantee of satisfaction. If you are NOT satisfied with the service, you can get your FULL money paid towards DebtSelect refunded. The only condition is you have to tell us before the end of 30 days of your subscription. NO QUESTIONS ASKED!
"Thanks a lot for good guidance PersonalFN and team. I was always afraid of investing money in mutual fund and it was steep learning curve for me but thanks for your support. I am happy with my new mutual fund knowledge and investment."

- Rashida Jafri, U.A.E
So, what are you waiting for?

Do not miss on this fabulous opportunity!

Act now and start making superior, safe returns.

Just to let you know, this offer closes soon.
* all inclusive
We strongly recommend that you should not miss out on this offer.

To your financial well-being,

Warm Regards
Team PersonalFN

P.S : If you have any queries, please feel free to contact us at: 022-61361200 or write to us at subscribe@personalfn.com.

P.P.S : The exclusive guide will be mailed to you within 3 days of receiving your subscription.

P.P.P.S: Our money-back guarantee - You can try DebtSelect FREE for the next 30 days and see for yourself if it suits your requirements. And if you do not like what you see (unfortunate for us!) over this 30-day period, we'll return every rupee you paid. Can the subscriber keep the report?
Quantum Information Services Pvt. Ltd.
101, Raheja Chambers,
Free Press Journal Marg,
213, Nariman Point,
Mumbai-400021.
Maharashtra. India.
Tel.: +91-22-6136 1200
Please read the Terms of Use.